Carpet And Upholstery Cleaning

Caernarfon, Anglesey and Gwynedd
Are you looking for carpet and upholstery cleaning in Caernarfon, Anglesey and Gwynedd?
Your carpets and upholstery need to be displayed at all times. Protect your property by calling Cahill Industrial Cleaning. We offer professional cleaning and maintenance of carpets and upholstery.
Carpet manufacturers recommend a periodic professional carpet clean, due to the deposits and bacteria that build up in the pile. With our deep cleaning services, we can keep your carpet and upholstery looking good as new and free from dirt and stains.
We pride ourselves on offering a consistently punctual, high quality, value for money service, using only the most effective cleaning products - so you can be sure that you'll receive the carpet and upholstery cleaning service that you deserve!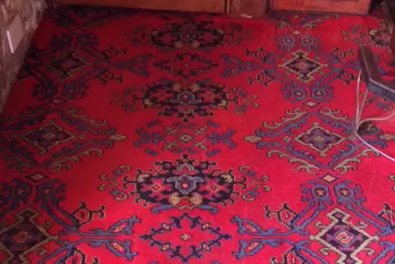 Hot Water extraction is an industry recognised as the deepest and most comprehensive method of carpet cleaning.
Preventative Maintenance
Carpets act as a filter, dirt, trapping dust, animal hair, gasses and other soils. All carpet producers agree on actions you can take between carpets cleaning to improve the life span of the carpet.
Preventative maintenance actions include:

Moving furniture to change traffic patterns
Piloting the carpet to avoid matting
Using walk off mats to reduce the amount of soil tracked in the carpet
Professional Cleaning
Anglesey Commercial Cleaning can solve any moderate and severe soil in your carpets. How often you need a professional to clean based on the accumulation of soil, traffic, type and colour of the carpet.
A great rule would be a professional carpet cleaning every 12 months. The best advice is a perfect deep cleaning of carpets before they are completely saturated with dirt. If you wait until the carpets are dirty, your carpets may never return to their previous appearance.
Dirt accumulates in layers. And when the carpet is dirty, it can only be seen at the ends of the fibres. More Dirt will be hidden below the surface near the base and damage the carpet.
In addition, when the carpet is filled with dirt, the soil has penetrated into the cracks and remained firm. Our aim is to always complete each job perfectly. We provide carpet cleaning with advanced equipment.
We have more than 40 years of experience and training to the highest professional standards. Call us today to discuss your requirements.
Gwynedd and Anglesey Area's We Cover
If you are looking for carpet and upholstery cleaning in Gwynedd, Anglesey and the surrounding areas, contact our experts today. We work throughout Gwynedd and Anglesey including the following:
Bala
Barmouth
Bethesda
Blaenau Ffestiniog
Caernarfon
Criccieth
Dolgellau
Harlech
Nefyn
Porthmadog
Pwllheli
Tywyn
Amlwch
Beaumaris
Holyhead
Llangefni
Menai Bridge
Please Note: If you location isn't specified here, please feel free to get in contact with us as we maybe able to cover your local area.
Our Carpet Steam Cleaning
Are you looking for high-quality carpet steam cleaning services around your local area? Then you've come to the right place. We have all the necessary knowledge, experience and specialist equipment to ensure the job is done to a high standard and your carpet looks as good as new.
Here at Anglesey Commercial Cleaning, our professional carpet cleaning services include steam cleaning and hot water extraction, which are both eco-friendly methods for carpet cleaning. Our carpet cleaners are fully trained in the different cleaning methods and have years of experience to ensure the cleaning process is done correctly.
Steam cleaning is great for stain removal and also for the recent events of COVID-19. Keeping your carpet clean is so important and gets rid of dirt, bacteria and viruses. We work hard for customer satisfaction and provide special cleaning methods for delicate fabrics to ensure your carpet is in safe hands.
The average drying time is around 2-4 hours, depending on your carpet type. However, we can also turbo-dry your carpet to speed the drying process up.

If you would like to book a carpet steam cleaning appointment with us, then please contact us today. You can get in touch by giving us a call or sending us an email, and a member of our team will always be more than happy to help and answer any of your queries and questions. We also offer consultations with a free quote and no obligations to ensure your carpet gets the treatment it needs.
Upholstery cleaning involves cleaning your furniture, which is literally on show at all times, and is where you and your family and friends will sit, or dine, including chairs, sofas, curtains and much more. This is why it is so important to keep it as clean as possible.
You may not think to give your upholstery a good clean when in actuality, a deep clean to get rid of bacteria, dirt, dust, and viruses would help massively.
We have years of experience to ensure we provide the correct treatment for any of your delicate fabrics and to also make sure we meet all our customer's requirements. We are experts at stain removal and can also give you advice on aftercare for your upholstery.
Regular cleaning can help to ensure your upholstery lasts longer and keeps longer new and fresh for longer too. This could save you having to buy brand new upholstery, which means saving you money! Our professional and full trained cleaners are friendly and will always work hard to ensure complete customer satisfaction with every job.
If you would like to find out more information about our upholstery cleaning process, including pre-treatment and aftercare, please don't hesitate to give us a call. We are more than happy to answer your queries and questions and give you a free quote with no obligations.
Are you looking for carpet and upholstery cleaning in Caernarfon, Anglesey and Gwynedd? Find out more about our professional cleaning services.
---
Do you require a commercial cleaning service? Contact us for carpet and upholstery cleaning in Caernarfon, Anglesey and Gwynedd. Call 01286 676 010 or 07919 188 407 today.