Do tenants pay for professional cleaning
Posted by:
Admin
Tags:
cleaning, end of tenancy, tenant, landlord, professional cleaning
Posted date:
13-07-2021
We look at the question: do tenants have to pay for professional cleaning? If you are a landlord or a tenant leaving a rented home, you will want to find out who is responsible for cleaning the property.
Why take the time to clean the property?

There are numerous reasons why it is worth spending extra time on a significant clean of the place you have been renting before moving out.

The level of cleanliness is essential for avoiding deposit disputes and is one of the most prominent reasons behind tenancy issues. TDS (Tenancy Deposit Scheme) states that over half of England and Wales's tenancy issues occur over cleaning or uncleanliness.
Ensuring your property is sparkling, and in tip-top shape from the moment the new tenants moved in, you're more likely to avoid any disputes and get your deposit to cover expenses back instead of leaving the tenant to pay for cleaning services.

A beautiful property professionally cleaned can ensure references from your Landlord for when you move into your next home. You don't want to risk your Landlord leaving a negative review in your reference before you leave the property once more. Alternatively, you may want to pay for a professional to clean it for you thoroughly.
Can the landlord force you to hire a cleaning company?

Cleaning is the tenant's responsibility, and that responsibility entails how clean your property is when you hand the keys back to the Landlord when you're ready to move out. Your Landlord may request a specific hygiene standard for the job, similar to the one presented in the inventory agreement.

Your end of tenancy clean-up is necessary for meeting that professional standard criterion before moving out. Suppose you are quite a caring tenant and tidy your rented home weeks on end and maintain it regularly.
In that case, you will likely closely meet that inventory and only require slight adjusting, polishing around the appliances and a final sweep around before leaving the house or property. It allows you to get rid of any fair wear and tear to impress the tenants and landlord.
If you have not met your cleaning obligations as tenants, your Landlord cannot enforce you to purchase services for end of tenancy cleaning. In the tenancy agreements, many landlords ensure they include professional cleaning clauses. Tenants can sometimes find themselves forced to use letting agents cleaning services.

End of tenancy cleaning service jobs can often be around £400 even for six months of a tenancy. These are extreme case examples; however, some tenants feel it is invasive for landlords to demand high costs for government-approved cleaning services.
End of tenancy cleaning is a vital government-approved way to get back your deposit
Suppose you have not completed end of tenancy cleaning before moving out of your rented property in England and Wales. In that case, the Landlord may hire a cleaning company to provide the necessary services, discounting this bill from your rental deposit, which, in turn, may cost you more money.
Such does not work in your favour; your Landlord will generally no longer prioritise keeping your overall price low but will prioritise cleanliness for the next tenant. Your Landlord can still not deduct or claim any more than the total cost of cleaning services, if they do so, it may result in further financial issues, and you will have to seek advice.

A receipt is required for further proof and evidence that all cleaning expenses are paid. The evidence can be used as protection during legal deposit disputes, should they result in one.
Ensure that you request to see the cleaning service receipt to approve any potential deposit deductions. It is in the tenants best interest to maintain the property at all times, to ensure these situations do not occur and that cleaning comes free for both of you.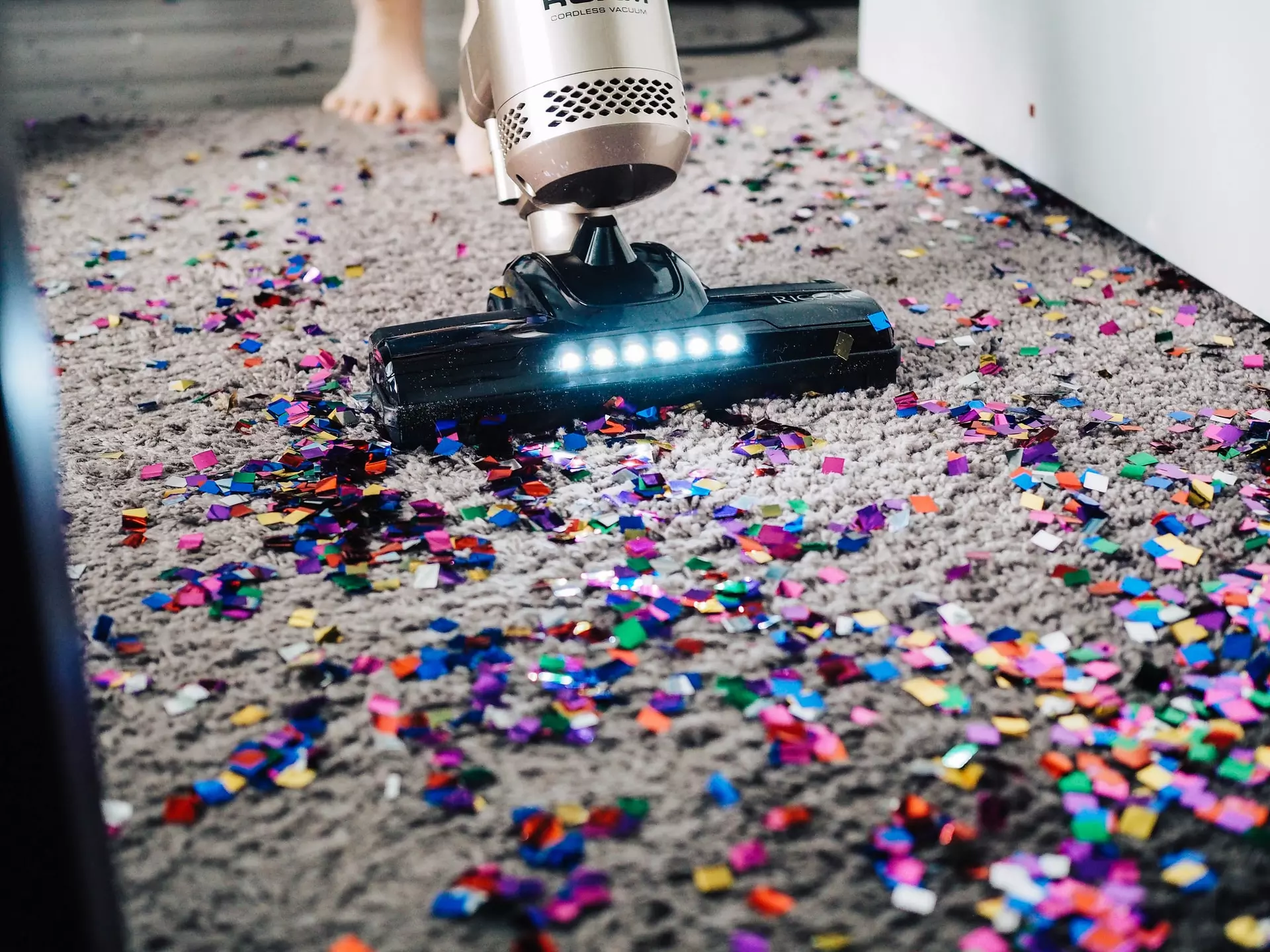 What does end of tenancy cleaning involve?

Tenancy cleaning is a process that involves a thorough cleansing of all appliances, counters, tabletops and any furniture remaining in the property. Keep a checklist of all the essential areas to clean and begin the process to ensure you work more thoroughly.

Empty all of the shelves and cupboards in the kitchen and ensure you remove any crumbs, leftover packets and thoroughly wipe down the inside with soap and water to rid any potential spillage or stickiness. Then dry each shelf with a dry cloth.
Pull out any appliances away from the wall and ensure you mop the floors behind them, wiping down the wall if there are spillages and along skirting boards to rid any dust.

Deep clean all appliances, such as the oven and hob, the fridge, the washing machine, dishwasher, etc. The backs of kitchen appliances are often neglected until big cleans and thus are filled with dust and cobwebs, its best to ensure the devices are gleaming to impress the new residents and adhere to the Landlords wants.

After pulling out and thoroughly cleaning all shelves, racks, and cabinets inside, this helps prevent mould from growing inside.
The oven and hob should be a focal point when cleaning your kitchen. Grime, household dust and grease can build up in thick layers if neglected after a tenant cleaning, and it creates so much cleaning for the new residents when they arrive. Oven cleaning requires harsh cleaning agents, multiple products and a great deal of effort to complete.

Pull out all the burners, trays, racks and thoroughly clean them along with switches and handles. The oven is often the first appliance to receive an inspection by new tenants and sets the overall expectation for the cleanliness of the rest of the home. If it is unclean, you may receive a bad report from the Landlord and tenants that will be passed on to your future landlords.
Clean all coffee tables, cabinets, potential bookshelves, and TV stands in your living room. Focus on dusting, polishing and vacuuming in your living room; there are numerous awkward or excentric surfaces to clean, so ensure everything is polished and tidy. Wash your furniture; take the covering off, wash them or take them to the laundry if possible; this allows you to clean off any stains and rid any bad scents fostering in the fabric.
Similarly to the kitchen, the bathroom is another room you want to focus on during the last clean-up. Ensure you scrub away at everything, including the sink, the toilet, bath, shower, tiles, mirrors and any other facilities you may have, such as toilet roll or towel racks.

Bathrooms can harness plenty of grime and dirt due to the humidity and dampness that arises, so thoroughly clean each spot in your bathroom till it is spotless. Plug holes and drains must be clear of debris and ensure the water runs down immediately without any blockages.
Take time to remove soap scum, limescale, mould or any stray hair from drain gates, faucets and the shower. Wash out any limescale from the holes in the showerhead that may have built up over time. There are some great tips to use for showers, such as leaving the showerhead submerged in a bowl of white vinegar overnight and the morning after, it should be clear.

Wash the curtains and blinds during your end of tenancy clean-up and carefully follow all instructions. If this is not an option, take it to the dry cleaners for an efficient wash and ensure you dust and polish the curtain rods. You can do the same with fabric blinds you have and dust any Venetian slats should you have them.
During your end of tenancy clean-up, clean all windows from the inside. Call a window cleaner should you struggle to reach the outside. You can find numerous fantastic cleaning agents on the market; however, excellent tips for cleaning glass windows is to use alcohol and vinegar.

Any carpets or rugs you own, we recommend, be steam cleaned; they are very cheap to hire, have multiple attachments to enable you to reach every surface and crevis and get rid of any harsh stains or spots.

If you cannot, the least you can do in this scenario is scrub any stains away with a wire brush and a suitable cleaning product that you use during your carpet cleaning process, allowing you to remove hair or debris that could be embedded in the fibres. When dry, you can finish by vacuuming.
Finally, you want to ensure you keep your garden, shed, or any exterior spaces clean and tidy during your big clean-up before moving out. Remove any weeds from the premises, sweep up any debris, fallen leaves or blossom and ensure you hose down any decking areas and patio.

If you have a garden, mow your lawns and ensure your flowerbeds are presentable and remove any dead-heads from any plants or flowers. Many green-thumbed gardeners will have a routine process to maintain the livelihood of their plant life.

Repair any damages to gates, should you have any; however, if it was broken before you moved in or at the start of the tenancy, ensure there is a record of it on your Landlords inventory so that you do not owe any fees. Doing so will ensure you cannot be held accountable and no tenant disputes will occur.
---
If you need professional end of tenancy cleaning in Caernarfon, Anglesey or Gwynedd, you can find out more about our commercial cleaning services by following the link below.